"I MEAN, WHAT DO YOU DO ON A SATURDAY NIGHT? INSTEAD OF WATCHING WHATEVER IS ON THE TUBE, YOU GRAB YOUR CAMERA AND YOU GO OUT AND TAKE PICTURES"
—Stanley Greene
And so began Stanley Greene's intensely involved documentation of the 1970s San Francisco punk scene—known then as "Art and Music" (stemming from its origins in the city's art school). While studying as an art student by day, by night Greene would travel to the clubs, back stages, and flophouses all around the city, digging into the heart of a musical, social, cultural movement.
Through 100+ images, and scattered accompanying texts, Greene shows and tells the story not only of the scene's heyday but his own participation in it (for example: "[the bands] let me document them with their girlfriends, sleeping, crashing, getting fucked, doing drugs…It was the best, most raucous, and at the same time most peaceful, time of my life. As crazy as it was, as high as I was, IT WAS SIMPLE AND THERE WAS A BALANCE"). Every photo, taken from such intimate, mixed-up proximity, tells us as much about the subject as it does about the artist as it does about the scene and the era. In the process, we are pulled in and taken back—the sweat, beer, vomit and cigarettes practically waft off the page.
Greene went on to have a highly successful and decorated career as a photojournalist, capturing conflicts and historical moments all over the world. But his life-long capacity to involve his viewers and tell a story began in a few humble nightclubs, many decades ago.
A joy (and a trip) to read, experience, and revel in. Highly recommended.
—Alexander Strecker
Editors' note: Stanley Greene passed away in 2017. You can read more about his life in The Guardian's obituary, among many others that were published in the wake of his death.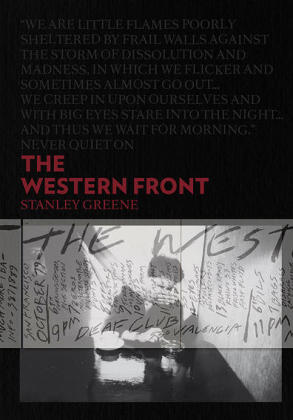 Never Quiet on the Western Front
Publisher: Andre Frere Editions
Hardcover: 176 pages